High-quality basement finishing, & more in Naperville, IL
Basement finishing products
Flooring
Wall panels
Ceiling tiles
Staircases
Windows
Doors
Crown molding
And much more!
Are you looking for a way to add space to your home in Naperville, IL? Maybe you need more room for storage or laundry, or perhaps you're looking for a separate space for your commuting college kid? No matter what your home is lacking, with a little preparation, your basement can fulfill those needs – but only when a trained and certified professional is the one to carry out the work!
Norway Built has been offering remodeling services ever since we opened our doors in 1987. Our basement finishing professionals are fully trained and certified to complete any project you have in mind, no matter how complex it might seem.
As a part of the Total Basement Finishing dealer network, we have access to products specifically designed for the basement space. Materials commonly used throughout the rest of the home, like wood or drywall, are easily damaged by moisture and allow mold to grow – meaning they aren't ideal for your finished basement!
There are endless design possibilities for a finished basement space. Past customers have designed basement bedrooms, laundry rooms, gyms, dens, bars, theaters, and much more! Schedule a free, in-home consultation today and go over all of your ideas with our design expert! We'll get started on your basement finishing project right away, so you can live in comfort and style.
Design the perfect new bathroom for your home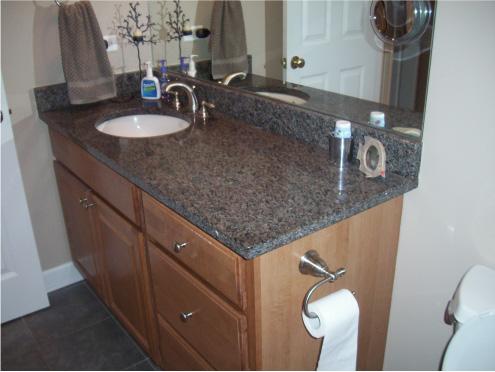 Change up countertops and fixtures when you remodel your bathroom!
Along with our basement finishing services, we also specialize in bathroom remodeling. A popular way to add value, beauty, and functionality to any home, we can help you design a beautiful bathroom that will benefit all the members of your family. Completely rearranging the layout of your bathroom can have dramatic effects, and potential buyers will be impressed!
Norway Built can help you create a new bathroom that meets all of your exact specifications. Using high-quality materials available in all kinds of colors and styles, we'll help you find the right tiles, countertops, sinks, tubs, showers, fixtures, and more. Our remodeled bathrooms not only look great, but they are much easier to use than your outdated bath or sink surely is. To discover all of our bathroom remodeling services, contact us for a free estimate today!
Get started on Naperville, IL kitchen remodeling and more
Have you ever wished that your kitchen could do more for you? Older kitchens can have poor layouts with insufficient storage space, and they usually don't look great either. Norway Built's complete remodeling services allow you to create the kitchen you've always envisioned for your home for an affordable cost.
We can install new countertops, cabinets, flooring, and much more to increase the appeal and space available in your kitchen. If you've ever felt like you needed more counter space to fully enjoy cooking in your kitchen, or simply more room so multiple family members can be in the kitchen at the same time, Norway Built can optimize your kitchen – and you'll be glad you worked with us!
Ready to discover what our basement finishing and bathroom and kitchen remodeling services can do for you? Schedule a free estimate in Naperville, IL or nearby!