Kitchen remodeling, basement finishing, and home remodeling in Aurora, IL
Basement design ideas
Bedroom
Apartment
Theater
Bar
Den
Laundry room
Gym
With historic and unique architecture to be found throughout the city, Aurora, IL offers a lot of options for local homeowners. In order for your home to stand out, it has to match these high standards. That's why Norway Built has been offering basement finishing and kitchen and bathroom remodeling services ever since we opened our doors in 1987! If you're unhappy with the way your home looks, let us help you upgrade!
Finishing a previously unfinished basement is a popular remodeling project because it easily balances cost and results. It's a way to gain valuable extra space for your home without adding on – instead, you get to make use of your home's existing structure. You and your family will be sure to appreciate the space, and when you're looking to sell your home down the line, you'll receive a return on your investment from excited buyers.
As a member of the Total Basement Finishing network, Norway Built has access to proven basement finishing products designed for the basement environment. All of our wall panels, flooring, ceiling tiles, and other products come with great warranties and are extremely customizable, so you can get the look and feel you desire. Need some help with basement finishing ideas? Our skilled designers are more than happy to discuss a plan with you!
If you're considering getting started on a basement remodeling project, talk to our experts today to see just how much we can transform your home!
The premier kitchen remodeling contractor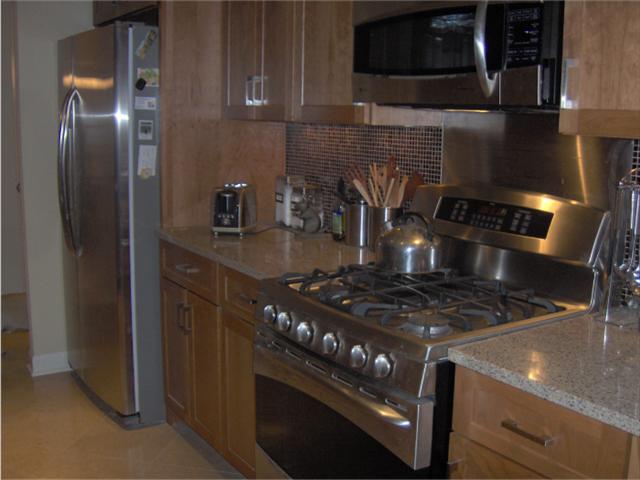 New appliances and countertops are a crucial part of a kitchen remodel.
Kitchens can be a huge factor in whether a potential buyer will make an offer on your home – an attractive, open kitchen space can often seal the deal. But if your kitchen is old and outdated, it isn't just bad news for a future resident, because you have to live with it too. Norway Built offers a variety of kitchen remodeling services to help make your kitchen dreams a reality. We offer custom cabinets, stylish countertops, kitchen islands, and much more! We work with you to help design and create the perfect custom kitchen that you'll love!
Our kitchen remodeling services include everything from new kitchen cabinets to flooring, fixtures, and countertops. We offer a wide variety of colors and styles, so you'll never have to compromise to create a kitchen you love. When we come to your home for your free consultation, we'll address any issues or concerns you may have as we discover your needs together.
We also understand that fixing up your kitchen can be disruptive, which is why we want to be sure about all the details before we get started. Norway Built's remodeling professionals will act efficiently and effectively to get your project done in a timely manner!
Aurora, IL bathroom remodeling
Looking to install a custom bathroom in your home or transform an old space? Norway Built's bathroom remodel services are exactly what you need! We specialize in creating beautiful, functional bathrooms that are easy to use by everyone in your family. If you want to upgrade the feel of your bathroom, let Norway Built help by providing expert remodeling services like tub to shower conversion, shower surrounds, walk-in tubs, and much more.
Like all of our remodeling services, we use only the best products to complete your new bathroom, and we won't stop until you're completely satisfied with the result. A new bathroom will provide immediate and long-term value to your home, and we are excited to be a part of that process. You won't regret working with us!
For all of your basement finishing or kitchen or bathroom remodeling needs, Norway Built is the local contractor with the most experience and dedication to 100% customer satisfaction. We can build trust and design value for your Aurora, IL home. Schedule a free estimate today!