Kitchen Backsplash Installation Near Downers Grove, Naperville, Hinsdale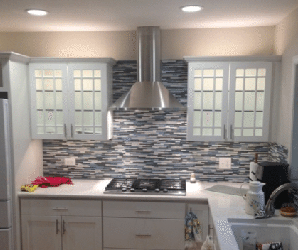 This colorful backsplash gives the kitchen a fresh, modern style.
We provide vinyl and tile kitchen backsplashes in Illinois
A kitchen backsplash is typically installed behind an oven or kitchen sink in order to protect the wall from spills and splashes. The right kind of backsplash will also provide decoration for the wall and can make a significant impact on the style and aesthetic of your kitchen.
If you're looking for kitchen backsplash design ideas and installation, Norway Built has you covered. We offer complete kitchen remodeling, including beautiful backsplash installation, throughout Illinois. Contact us today to schedule your free estimate!
Stylish types and materials for your kitchen backsplash design
Norway Built is your expert kitchen remodeler in Illinois, and we specialize in both vinyl kitchen backsplashes and tile kitchen backsplashes. We can install an elegant kitchen backsplash that will transform the look and feel of the room!
Our vinyl backsplashes are affordable and easy to clean so that you can enjoy the stylish appearance without needing to stress about maintenance. Our tile backsplashes can provide custom designs and give your kitchen the perfect finishing touch. Best of all, both backsplash materials are versatile enough to provide either a contemporary or a classic look.
The remodeling experts at Norway Built will discuss your kitchen backsplash ideas and advise you on the following and more:
The best material for your kitchen backsplash
The most affordable kitchen backsplash ideas for your budget
Your desired kitchen backsplash layout
The best type of kitchen backsplash for your home (contemporary, classic, decorative, etc.)
Free estimates for all of your kitchen remodeling needs in IL
Are you ready to move forward with your home remodeling project in Naperville or an area nearby in Illinois? Contact us today to find out more about our kitchen remodeling options or to schedule your free estimate on kitchen backsplash installation, kitchen island design, or any of our other remodeling services!
Looking for a price? Get a no cost, no obligation free estimate.